Hepatitis B Surface Antigen (HbsAg) Prevalence and Risk Factors in Women of Childbearing Age in Eastern Algeria
Keywords:
Women of childbearing age, viral hepatitis B, prevalence, Algeria, Risk factors
Abstract
Background: Hepatitis B is the most common chronic viral infection and a significant contributor to morbidity and death globally. Based on the mother's hepatitis B e antigen (HBeAg) status, the probability of perinatal HBV infection in children delivered to mothers with HBV ranges from 10% to 85%.
Aim: to determine the prevalence of hepatitis B virus infection among women of childbearing age in the eastern region of Algeria and investigate risk factors for infection to recommend ways to reduce the disease's impact on neonatal morbidity and mortality.
Methods: We conducted a cross-sectional study in Sétif, Algeria, from 2005 to 2007 to assess the prevalence of Hepatitis B Surface Antigen among women of childbearing age. This study is the first and only one in Algeria. Data on risk factors, obstetrics, and sociodemographic were gathered using structured questionnaire; they were subsequently tested using an enzymelinked immunosorbent assay for HBsAg. The data collected were entered and processed using Epi info 3.3.2 software. Infection prevalence, sociodemographic, clinical, obstetric and risk factors variable frequency distributions were calculated. The student's t-test and Fisher's exact test were applied, at a significance level of 5%.
Results: There are834 women of childbearing age's medical records were examined for this study. 1% of HBsAg test findings were positive. Positive HBsAg didn't significantly correlate with any other variables, including age, place of residence, municipality, marital status, occupation, parity, current pregnancy, reason for current consultation, transmission risk factors (blood transfusion, recent piercing, dental care, shared personal hygiene equipment, injection with multiple use equipment, tattoo, scarification, partner characteristics). However, history of jaundice has a significant protective effect against HBsAg positive.
Conclusion: Although our results classify the two municipalities studied as low prevalence areas (< 2%). Prenatal HBsAg screening is strongly advised.
References
World Health O. Rapport sur la santé dans le monde : 2005 : donnons sa chance à chaque mère et à chaque enfant. Genève: Organisation mondiale de la Santé; 2005.
Broderick AJ, MM. al,. Hepatitis B and D viruses: Elsevier Saunders; 2004.
Lee C, Gong Y, Brok J, Boxall EH, Gluud C. Effect of hepatitis B immunisation in newborn infants of mothers positive for hepatitis B surface antigen: systematic review and meta-analysis. Bmj. 2006;332(7537):328-36.
Chang MH, Hsu HY, Ni YH, Tsai KS, Lee PI, Chen PJ, et al. Precore stop codon mutant in chronic hepatitis B virus infection in children: its relation to hepatitis B e seroconversion and maternal hepatitis B surface antigen. J Hepatol. 1998;28(6):915-22.
Ayed Z, Houinato D, Hocine M, Ranger-Rogez S, Denis F. [Prevalence of serum markers of hepatitis B and C in blood donors and pregnant women in Algeria]. Bull Soc Pathol Exot. 1995;88(5):225-8.
Bougermouh A, Belabbes H. Prévalence du portage de l'antigène HBs dans la population générale 1998.
INSP. Situation epidemiologique de l'année 2004 sur la base des cas déclares à l' INSP. relevé épidemiologique annuel [Internet]. 2004; XV.
Algérie. rdtse. 2006.
Houissa R, Gharbi Y, Coursaget P, El Goulli N. Épidémiologie del'hépatite B en Tunisie. Arch Inst Pasteur Tunis 1988(65 : 53-8).
Triki H. Épidémiologie des virus des hépatites B, C et Delta dans la population générale et les cirrhoses hépatitiques en Tunisie. Arch Inst Pasteur Tunis 1994; 71( 403-6).
Gorgi Y, Ayed K, Jenhani F, Pichoud C, Trepo C. Prévalence des marqueurs du virus de l'hépatite B dans la région de Tataouine (Sud Tunisien). Archs Inst pasteur Tunis. 1989(66 :251-61).
Ohayon V, Sekkat S, Dumont B. Etude épidémiologique et virologique des infections par le virus de l'hépatite C et B au Maroc. Gastroentérol clin biol 2000; 24( 25):169-73.
Rui WZ, Lo Baïdy B, N'Diaye M. [Hepatitis B virus infection in the school milieu of Kiffa and Selibaby, Mauritania]. Bull Soc Pathol Exot. 1998;91(3):247-8.
Sidibe; S, Sacko; BY, I. Traoré. Prévalence des marqueurs sérologiques du virus de l'hépatite B chez les femmes enceintes dans le district de Bamako, Mali. Bull Soc Pathol Exot. 2001( 94, 4):339-41.
Khalil; MKM. Serosurvey of hepatitis B surface antigen in pregnant Saudi women. La Revue de Santé de la Méditerranée orientale, . 2005;11(4).
Al-Shamahy H. Prevalence of hepatitis B surface antigen and risk factors of HBV infection in a sample of healthy mothers and their infants in Sana'a, Yemen. Ann Saudi Med. 2000;20(5-6):464-6.
Alvarez-Muñoz MT, Vázquez-Rosales JG, Torres-López FJ, Arredondo-García JL, Bustamante-Calvillo ME, Del Rey-Pineda G, et al. Infection of pregnant women with hepatitis B and C viruses and risks for vertical transmission. Arch Med Res. 1997;28(3):415-9.
McQuillan GM, Coleman PJ, Kruszon-Moran D, Moyer LA, Lambert SB, Margolis HS. Prevalence of hepatitis B virus infection in the United States: the National Health and Nutrition Examination Surveys, 1976 through 1994. Am J Public Health. 1999;89(1):14-8.
Vázquez-Martínez J, Coreño O, Montaño-Estrada L, Attlan M, Gomez H. Sero-prevalence of Hepatitis B in pregnant women in Mexico. Salud pública de México. 2003;45:165-70.
Lewis DL, Arens M. Resistance of microorganisms to disinfection in dental and medical devices. Nature Medicine. 1995;1(9):956-8.
Porter S, Scully C, Samaranayake L. Viral hepatitis. Current concepts for dental practice. Oral Surg Oral Med Oral Pathol. 1994;78(6):682-95.
Casriemen B, Mcneely B. Case 26-1966, case records of the Massachusetts General Hospita. N Engl J Med1966. p. 1317-25.
PANY W. Ear piercing. N Engl J Med. 1974( 291):1143.
de Man RA, Bosman A, Stevens-Schretzmeijer M, Niesters HG. [Two patients with acute hepatitis B from the same piercing salon]. Ned Tijdschr Geneeskd. 1999;143(43):2129-30.
ABDOOL KARIM S, al. High Prevalence of Hepatitis B Virus Infection in Rural Black Adults in Mseleni, South Africa. AJPH 1989;79(7).
Johnson.0., Andersen H., J. S, al. e. Ear piercing and hepatitis : nonsterile instruments for ear piercing and the subsequent onset of viral hepatitis. JAMA. 1974;227(1165).
Mele A, Corona R, Tosti ME, Palumbo F, Moiraghi A, Novaco F, et al. Beauty treatments and risk of parenterally transmitted hepatitis: results from the hepatitis surveillance system in Italy. Scand J Infect Dis. 1995;27(5):441-4.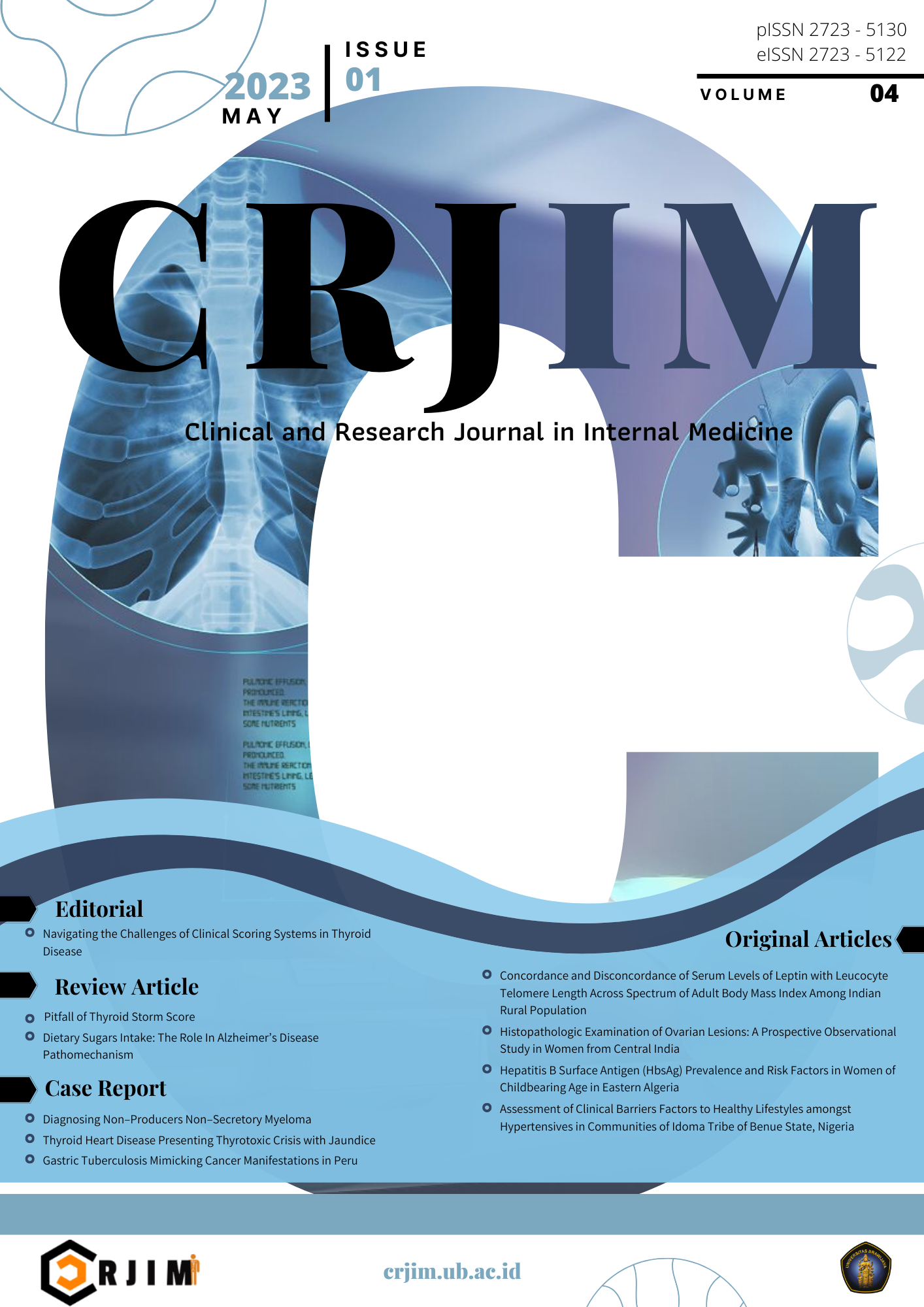 Downloads
How to Cite
Ouyahia, A., Rais, M., Kouicem, A., Kouicem, M., Abdoun, M., & Laouamri, S. (2023). Hepatitis B Surface Antigen (HbsAg) Prevalence and Risk Factors in Women of Childbearing Age in Eastern Algeria. Clinical and Research Journal in Internal Medicine, 4(1), 373–383. https://doi.org/10.21776/ub.crjim.2023.004.01.4
License
Copyright (c) 2023 Clinical and Research Journal in Internal Medicine
This work is licensed under a Creative Commons Attribution 4.0 International License.
The copyright of the received article shall be assigned to the journal as the publisher of the journal. The intended copyright includes the right to publish the article in various forms (including reprints). The journal maintains the publishing rights to the published articles.