The Effect of Vitamin E on Oral Mucositis Induced by Chemotherapy in Non-Hodgkin Lymphoma Patients Receiving Chemotherapy
Keywords:
oral mucositis, chemotherapy, vitamin E, non-Hodgkin's lymphoma
Abstract
Chemotherapy-induced mucositis is a side effect of chemotherapy that often occurs in patients with solid tumors and lymphoma. Oral mucositis can affect nutritional status and the risk of infection, both local and systemic. Antioxidant Vitamin E is beneficial for the prevention and therapy of both oral and gastrointestinal mucositis. Aim: To determine the effect of vitamin E therapy on the incidence of oral mucositis in non-Hodgkin lymphoma (NHL) patients receiving chemotherapy. Methods: This is a single-blind experimental study in 62 NHL patients undergoing chemotherapy who meet the inclusion criteria. Patients who met the inclusion criteria were randomly divided into 2 groups, namely 31 patients (treatment group) received vitamin E 400 mg / IU per day for 7 days and 31 patients in the placebo group. The incidence and grade of oral mucositis were observed on day 7. Statistical analysis used Chi-Square and Mann Whitney test according to the data type. Results: a total of 67% NHL patients were male, most of whom were over 46 years of age and as many as 50% of patients used chemotherapy regimens RCHOP and CHOP. There was an incidence of oral mucositis in 35% in the placebo group and 12.9% in the treated group (p = 0.038). In the placebo group, there were 4.8% of patients with grade 2 and 3 oral mucositis, which was not found in the therapy group. Conclusion: Â treatment with vitamin E in NHL patients undergoing chemotherapy can prevent chemotherapy-induced oral mucositis and prevent its severity.
References
Sutherland S, Browman G. Prophylaxis of oral mucositis in irradiated head-and-neck cancer patients: a proposed classification scheme of interventions and meta-analysis of randomized controlled trials. Int J Radiat Oncol Biol Phys. 2001; 49:917–930. [PMID: 11240232, doi: 10.1016/s0360-3016(00)01456-5 ]
Wilkes JD. Prevention and treatment of oral mucositis following cancer chemotherapy. Semin Oncol. 1998;25: 538–551. [PMID: 9783593]
Loprinzi CL, Gastineau DA, Foote RL. Oral complications. In: Abeloff M, Armitage JO, Lichter AS, Niederhuber JE, editors. Clinical oncology, 2nd ed. New York: Churchill Livingstone. 2000; 965–979
Symonds RP. Treatment-induced mucositis: an old problem with new remedies. Br J Cancer. 1998;77:1689–1695. [doi: 10.1038/bjc.1998.279]
Dodd MJ, Miaskowski, C, Dibble AL, Paul SM, MacPhail L, Greenspan D, et al. Factors influencing oral mucositis in patients receiving chemotherapy. Cancer Practice Journal. 2000;8(6), 291-304. [doi: 10.1046/j.1523-5394.2000.86010.x]
Vera-Llonch M, Oster G, Ford CM, Lu J, Sonis S. Oral mucositis and outcomes of allogeneic hematopoietic stem-cell transplantation in patients with hematologic malignancies. Supportive Care in Cancer. 2007;15(5), 491-496. [ PMID: 17139495, doi: 10.1007/s00520-006-0176-9 ]
Wadleigh RG, Redman RS, Graham ML, et al. Vitamin E in the treatment of chemotherapy-induced mucositis. Am J Med. 1992;92:481–484. [PMID: 1580295, doi: 10.1016/0002-9343(92)90744-v]
Cuppini R, Ambrogini P, Ciaroni S, Cecchini T, Ferri P, Benedetti S, Del Grande P, Santi S, Papa, S. Neural precursor proliferation and newborn cell survival in the adult rat dentate gyrus are affected by vitamin E deficiency. Neuroscience research. 2002;44(4), 369-377. [DOI: 10.1016/S0168-0102(02)00157-8]
Chaitanya NC, Muthukrishnan A, Babu DBG, Kumari, CS, Lakshmi MA, Palat G, Alam KS. Role of vitamin E and vitamin a in oral mucositis induced by cancer chemo/radiotherapy-a meta-analysis. Journal of clinical and diagnostic research: JCDR. 2017;11(5), ZE06. [doi: 10.7860/JCDR/2017/26845.9905]
Chu, E., & DeVita, V. T. Chemotherapeutic and biologic drugs. Chu E, DeVita VT. Physician's Cancer Chemotherapy Drug Manual. 2001;94-98. [doi : https://doi.org/10.1093/annonc/mdf265]
Liu S, Semenciw R, Mao Y. Increasing incidence of nonâ€Hodgkin's lymphoma in Canada, 1970–1996: age–period–cohort-analysis. Hematological oncology. 2003;21(2), 57-66.[https://doi.org/10.1002/hon.703]
Vose, JM, Armitage, JO, Weisenburger, DD, Bierman, PJ, Sorensen S, Hutchins M, Mailliard J. The importance of age in the survival of patients treated with chemotherapy for aggressive non-Hodgkin's lymphoma. Journal of clinical oncology. 1988;6(12), 1838-1844. [ doi: 10.1200/JCO.1988.6.12.1838]
Ibraheemi, Shaimaa Shamoun. Incidence and Risk Factors of Oral Mucositis in Patients with Breast Cancer Who Receiving Chemotherapy in Al-Bashir Hospital, Int J Hematol Oncol Stem Cell Res.2016;(4): 217–223. [ PMID: 27928476]
Mancuso S, Carlisi M, Santoro M, Napolitano M, Raso, S, Siragusa S. Immunosenescence and lymphomagenesis. Immunity & Ageing. 2018;15(1), 22.[doi: 10.1186/s12979-018-0130-y]
Ibrahim EM, Al-Mulhim FA. Effect of granulocyte-macrophage colony-stimulating factor on chemotherapy-induced oral mucositis in non-neutro-penic cancer patients. Medical Oncology. 1997;14(1), 47-51. [ PMID: 23008581]
Müller, AM, Ihorst G, Mertelsmann R, Engelhardt M. Epidemiology of non-Hodgkin's lymphoma (NHL): trends, geographic distribution, and etiology. Annals of hematology. 2005;84(1), 1-12.
[doi: 10.1007/s00277-004-0939-7]
Swesis. Kaitan Antara Faktor Usia dan jenis Kelamin terhadap Kejadian Limfoma Non Hodgkin di Rumah Sakit Sanglah 2014 E-Jurnal Medika Udayana. 2015;4(9):e-jurnal Medika Udayana
Horesh N, Lavi N, Dann E, Horowitz NA. Treating Indolent Lymphoma in Older Adults: What Is the Right Way?. 2015. [https://doi.org/10.1182/blood. V126.23.5097.5097 ]
Horesh N, & Horowitz NA. Does gender matter in non-Hodgkin lymphoma? Differences in epidemiology, clinical behavior, and therapy. Rambam Maimonides medical journal. 2014;5(4).
[doi: 10.5041/RMMJ.10172]
Lee JS, Bracci PM, Holly EA. Non-Hodgkin lymphoma in women: reproductive factors and exogenous hormone use. Am J. 2008. [doi: 10.1093/aje/kwn119]
Lu Y, Wang SS, Sullivan-Halley J, Chang ET, Clarke CA, Henderson KD, Ma H, Duan L, Lacey JV Jr, Deapen D, Bernstein LInt J.Oral contraceptives, menopausal hormone therapy use and risk of B-cell non-Hodgkin lymphoma in the California Teachers Study. Cancer. 2011.Aug 15; 129(4):974-82. [doi: 10.1002/ijc.25730 ]
Van Lint P, Libert C. Chemokine and cytokine processing by matrix metalloproteinases and its effect on leukocyte migration and inflammation. Journal of leukocyte biology 2007;82(6), 1375-1381. [doi: 10.1189/jlb.0607338]
Zhu G, Pan D, Zheng T, Lan Q, Chen X, Chen Y, Kim C, Bi X, Holford T, Boyle P, Leaderer B, Chanock SJ, Rothman N, Zhang Y .2011. Polymorphisms in Th1/Th2 cytokine genes, hormone replacement therapy, and risk of non-Hodgkin lymphoma .Front Oncol. Jul 28; 1(21). [https://doi.org/10.3389/fonc.2011.00021]
Yakimchuk K, Iravani M, Hasni MS, Rhönnstad P, Nilsson S, Jondal M, Okret S. Effect of ligand-activated estrogen receptor β on lymphoma growth in vitro and in vivo. 2011;Jul; 25(7):1103-10.
[doi: 10.1038/leu.2011.68]
Keefe DM, Schubert MM, Elting LS, Sonis ST, Epstein JB, Raberâ€Durlacher JE, Peterson, DE. Updated clinical practice guidelines for the prevention and treatment of mucositis. Cancer: Interdisciplinary International Journal of the American Cancer Society. 2007; 109(5), 820-831.[doi: 10.1002/cncr.22484]
Hartanto. Pengaruh Suplementasu Alfa Tokoferol terhadap stomatitid terkait kemoterapi. 2007.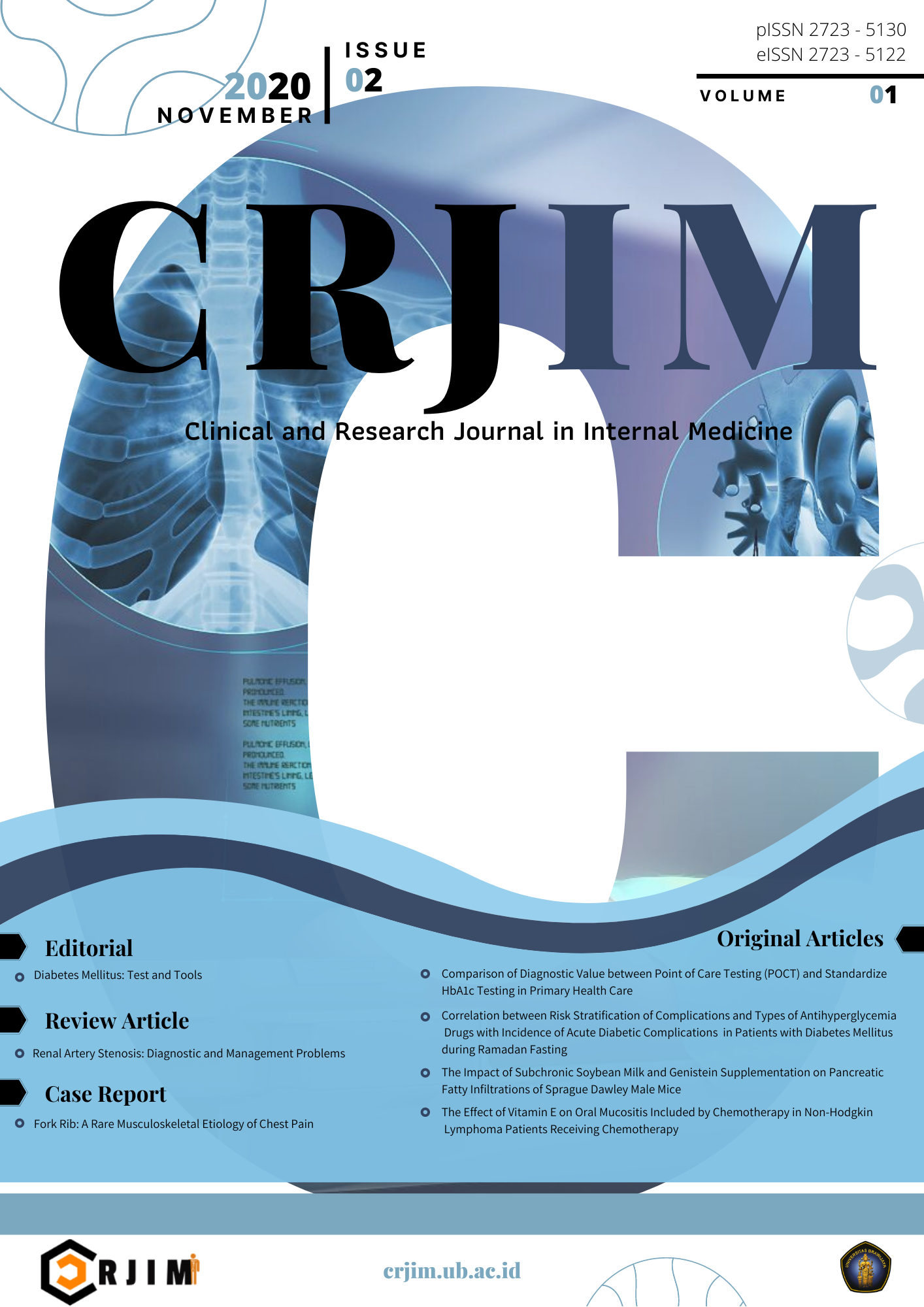 How to Cite
Hermanto, D. H., Habsari, I., & Machsoos, B. D. (2020). The Effect of Vitamin E on Oral Mucositis Induced by Chemotherapy in Non-Hodgkin Lymphoma Patients Receiving Chemotherapy. Clinical and Research Journal in Internal Medicine, 1(2), 88–95. https://doi.org/10.21776/ub.crjim.2020.001.02.5
License
The copyright of the received article shall be assigned to the journal as the publisher of the journal. The intended copyright includes the right to publish the article in various forms (including reprints). The journal maintains the publishing rights to the published articles.