Histopathologic Examination of Ovarian Lesions: A Prospective Observational Study in Women from Central India
Keywords:
Abdomen, ovarian neoplasms, female, ovarian cysts, india
Abstract
Background: There is age related increase in the incidence of ovarian cancer. Most Indian population-based cancer registries have reported a gradual rise in the ovarian cancer incidence over the years. Since ovary is composed of totipotent gametocytes and multipotent mesenchymal tissues, almost any type of tumor can arise from these tissues. Therefore, their proper recognition and classification is important for appropriate therapy and better prognosis.
Aim: to look at the histopathological profile of various ovarian lesions in the local female subjects from central India.
Methods: A prospective observational study was carried out on the surgically resected ovarian samples that were referred to the Pathology department over two and half year. A total of 100 ovarian cases were included. Histopathological examination of the specimen was done using standard protocols.
Results: On gross examination, majority of non-neoplastic specimen showed unremarkable findings. Microscopic examination of non-neoplastic cases revealed that most of the cases were of follicular cyst followed by corpus luteum cyst. On the contrary, majority of neoplastic specimen showed cystic external surface on gross examination. Surface epithelial tumor was the most common histologic type amongst neoplastic cases. Most common histologic subtype amongst the surface epithelial tumors was found to be benign simple serous cystadenoma.
Conclusion: In women from central India, commonest non-neoplastic lesion of ovary is follicular cyst whereas most common neoplastic lesion is surface epithelial tumor (benign simple serous cystadenoma).
References
Misra RK, Sharma SP, Gupta U, Gaur R, Mishra SD. Pattern of ovarian neoplasm in eastern UP. J Obstet Gynecol India. 1991;30:242–46.
Sikdar K, Kumar P, Roychowdhary NN. A study of ovarian malignancy: A review of 149 cases. J Obstet Gynaecol India. 1981;30:478–80.
GLOBOCAN 2008. Estimated cancer Incidence, Mortality, Prevalence and Disability-adjusted life years (DALYs) Worldwide in 2008. http://globocan.iarc.fr/.
ICMR Consensus Document for Management of Epithelial Ovarian CANCER. https://main.icmr.nic.in/sites/default/files/guidelines/Ovarian_Cancer.pdf
Murthy NS, Shalini S, Suman G, et al. Changing trends in incidence of ovarian cancer – the Indian scenario. Asian Pac J Cancer Prev. 2009;10:1025-30.
Gadducci A, Guarneri V, Peccatori FA, et al. Current strategies for the targeted treatment of ovarian cancer and relevance of BRCA mutational status. J Ovarian Res. 2019;12(1):9. Published 2019 Jan 28. doi:10.1186/s13048-019-0484-6.
Kanthilkar A M N. Clinico-histopathological analysis of neoplastic and non-neoplastic lesions of the ovary: a 3-year prospective study in dhule, north maharashtra, India. J Clin Diagn Res. 2014;8(8):FC04-FC7. doi:10.7860/JCDR/2014/8911.4709
Prakash A, Akiana S, Duraiswami R, Indira.V. Histopathological study of ovarian lesions in a tertiary care center in Hyderabad, India-a retrospective five-year study. Int J Adv Med 2017;4:745-9.
Gaikwad SL, Badlani KS, Birare SD. Histopathological study of ovarian lesions at a tertiary rural hospital. Trop J Pathol Microbiol. 2020;6(3):245-252.
Tejani AS, He L, Zheng W, Kanupriya k. Concurrent, Bilateral Presentation of Immature and Mature Ovarian Teratomas with Refractory Hyponatremia: A Case Report. J Clin Imaging Sci. 2020;10:23.
Pradhan HK et al. Int J Reprod Contracept Obstet Gynecol. International Journal of Reproduction, Contraception, Obstetrics and Gynecology 2018 Apr;7(4):1571-1578.
Mondal SK, Banyopadhyay R, Nag DR, Roychowdhury S, Mondal PK, Sinha SK. Histologic pattern, bilaterality and clinical evaluation of 957 ovarian neoplasms: a 10-year study in a tertiary hospital of eastern India. J Cancer Res Ther. 2011;7(4):433-437.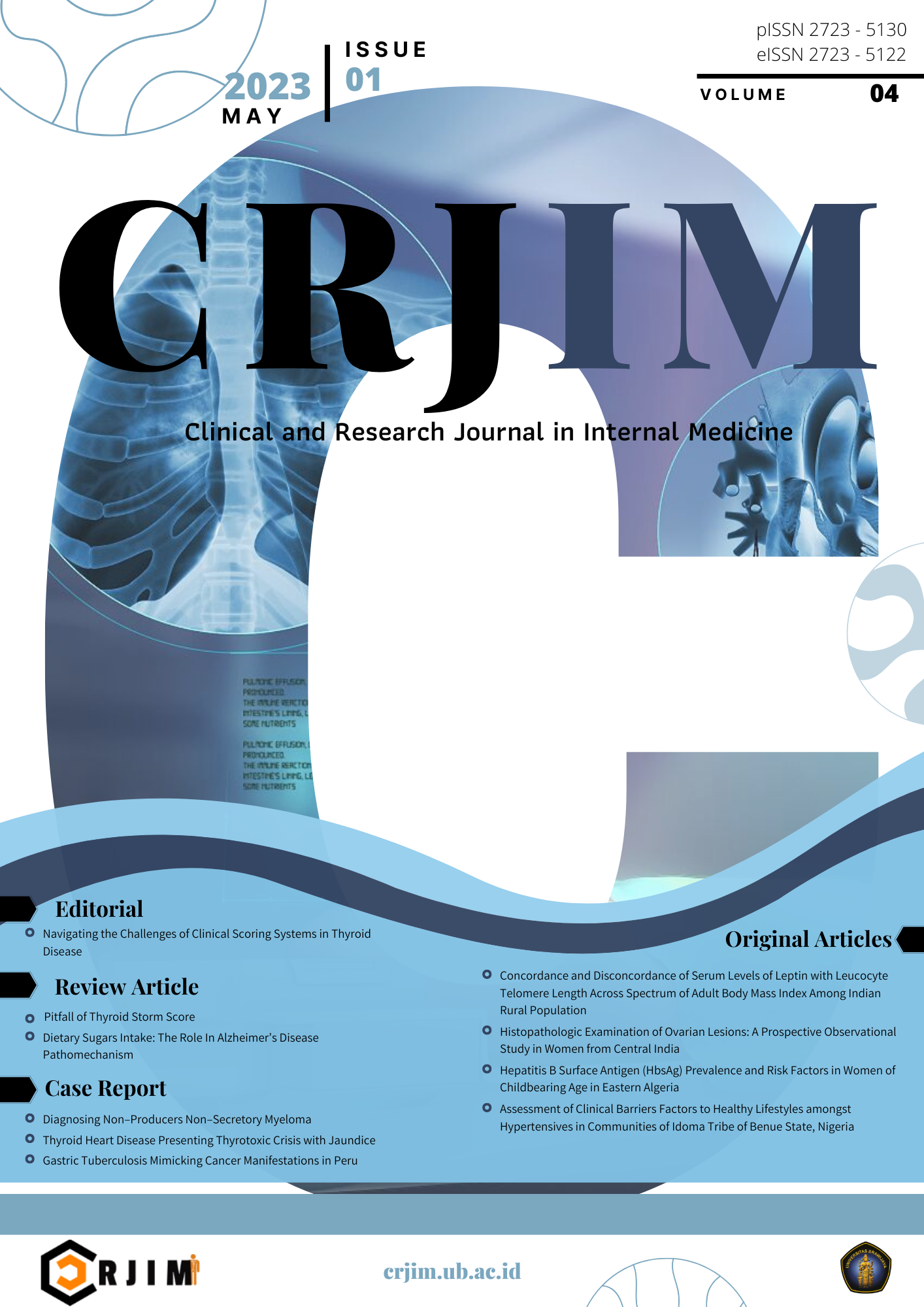 Downloads
How to Cite
Saxena, S., Singh, R., Patidar, H., Bhagora, R., & Khare, V. (2023). Histopathologic Examination of Ovarian Lesions: A Prospective Observational Study in Women from Central India. Clinical and Research Journal in Internal Medicine, 4(1), 366–372. https://doi.org/10.21776/ub.crjim.2023.004.01.3
License
Copyright (c) 2023 Clinical and Research Journal in Internal Medicine
This work is licensed under a Creative Commons Attribution 4.0 International License.
The copyright of the received article shall be assigned to the journal as the publisher of the journal. The intended copyright includes the right to publish the article in various forms (including reprints). The journal maintains the publishing rights to the published articles.